For my Magic: Remastered cube, I'm aiming to have around ten planeswalkers with balanced color representation. In this article series, I am analyzing all multicolor planeswalkers to see which ones are most appropriate, before settling on a color configuration.
This article covers the blue-red planeswalkers.
Criteria
I've copied this from prior articles- it's here for reference and you can skip it if you've read it before. 🙂
I have four main criteria for analyzing planeswalkers, derived from the overarching goals of Magic: Remastered and a desire to avoid planeswalkers utterly dominate games by themselves.

My criteria, in approximate order of importance-

Theme: I want planeswalkers to have a strong theme that drives draft picks, deck construction, and in-game choices. I want to prevent players from simply drafting and casting a powerful planeswalker without caring about the implications on their deck and game plan. A planeswalker with an "A" for Theme will generally require a player to build their deck a certain way (e.g. heavy on artifacts) in order for the planeswalker to be playable at all. A planeswalker with an "F" can be dropped into virtually any deck and be powerful all by itself.

Vulnerability: I want planeswalkers to be vulnerable, to increase the chance that an opponent can interact with it. This helps to minimize games where a planeswalker single-handedly creates a hopeless situation for the opponent. Players will need to deploy a planeswalker with care, either putting effort into defending the planeswalker with other creatures and spells, or accepting that the planeswalker will have a brief impact on the game and then go away. A planeswalker with an "A" for Vulnerability has no ability to create creature tokens, destroy creatures, or otherwise defend itself without the use of other cards. A planeswalker with an "F" has multiple abilities that protect itself, or possibly a single high-power ability.

Signature Spells: In order to ensure my cube represents a rich, vibrant world, I want its legends to be represented across multiple cards, through card names, flavor text, and art. This is extra important for planeswalkers, so I'm actively looking for planeswalkers that have "signature spells". Similar to Mordenkainen's spells in Dungeons and Dragons, cool and unique spells with a character's name on them gives depth to the world and positions planeswalkers as the "stuff of legends". A planeswalker with an "A" for Signature Spells will have at least one spell with their name on it that actively plays well with their loyalty abilities and fits the general criteria for my cube. A planeswalker with an "F" has no signature spells. Note: I am not considering flavor text or art here. I will be doing a flavor/art pass for any planeswalker I do include, but I specifically care about card names here.

Elegance:Â One of the core tenants for the Magic: Remastered cube is that each card is as simple and elegant as possible, representing the ideal execution of a single concept. Legendary cards get to bend that rule a bit, being somewhat self-defined. (What is the "ideal execution" of a unique fictional being?) Planeswalkers are also inherently complex, and I'd rather concentrate the "complexity points" for my cube into as few cards as possible. However, my ideal planeswalker will still tell a coherent story, with abilities that use as few words and concepts as possible to accomplish that. A planeswalker with an "A" for Elegance has three abilities that all work together in interesting combinations to tell a coherent gameplay "story", and do so without any extraneous words. A planeswalker with an "F" has three unrelated, wordy abilities with extra riders that are only there for rules or balance reasons.
And now, on to the blue-red planeswalkers!
Saheeli Rai
Theme: B. You can play her with any creatures, but a lot of her value is tied up in finding artifacts and creatures that have good "enters the battlefield" triggers or tap effects. Her ultimate also pushes you towards artifact density. Her creature tokens are even artifacts, pushing further towards artifact synergies. Not quite an A, as her first ability is pure value and her second ability can certainly function in your average cube deck, just at lower impact.
Vulnerability: A. Saheeli makes copies, but they disappear at end of turn, so her abilities do nothing to defend by themselves. Obviously you can clone "enters the battlefield" abilities or scry for the right cards, but even that is pretty tame compared to what I'm willing to accept for a planeswalker.
Signature Spells:Â A. There's only one, but it's a cool card that flavorfully represents Saheeli, lines up with her abilities, and goes well in the same decks Saheeli goes in. It's not a card I would normally include in Magic: Remastered, but I think it's got just the right amount of complexity to give it charm and flavor without going so far as to make it too weird or complex to include. I would argue that this (and Sorin's Vengenace) are two perfect examples of what I'm thinking of when I talk about "signature spells" and reference Mordenkainen.
Elegance: D. There's a lot of words here. The first ability feels like two random things tacked together, neither of which directly relates to anything else on the card. The last ability referring to "different names" is obviously extraneous baggage in a cube format. So really, none of the abilities meet all of my standards, even though I like these two cards reasonably well as a holistic package.
Ral Zarek
Theme: D. Almost entirely pure value, there's a tiny nod towards looking for permanents with powerful tap abilities.
Vulnerability: D. His second ability removes a lot of potential threats, although at least it's a negative cost. First ability also helps defend in conjunction with other creatures, although I'm not counting that for much as you can always choose to not attack in the first place.
Signature Spells:Â F. (none- and believe me, searching for cards with "Ral" in the title was a pain in the butt.)
Elegance: C. Each ability, in a vacuum, is clean and understandable, with few if any extraneous words or concepts. They just don't really go together at all. This is unfortunate, as I can see all three abilities as representing different takes on "lightning" or "energy", but they are such disparate concepts it doesn't come together holistically.
Dack Fayden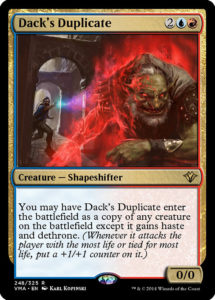 Theme: D. Almost pure value here as well. Ideally you'd play Dack in a deck with some graveyard synergies, and/or enough targeted spells to take advantage of the "ultimate" if you ever get to that stage, and/or enough mill so that you can use the first ability to deck your opponent. But realistically you don't need any of that to get significant value.
Vulnerability: B. The first ability obviously doesn't help defend other than digging you towards cards to help. As long as other cards are involved, I don't count this against a planeswalker unless it's egregious. The second ability matters if the main threat to Dack is an artifact, but this won't come up very often, so I've only downgraded one letter grade for that.
Signature Spells:Â D. The one card that is named after Dack has no relation to any of his planeswalker abilities. It also has dethrone, which has no place in Magic: Remastered.
Elegance: B. All of the individual abilities pass my tests for elegance. The package comes together thematically as different ways to "steal things". This isn't an "A" because I believe the first ability only feels appropriate for players who associate that mechanic with the concept of "looting".
Conclusions
I'm actually really happy with Saheeli, despite the wordiness. She might be my favorite planeswalker so far across all seven color pairs I've reviewed. I will be actively looking for a distribution of colors that allows me to include blue-red for Saheeli.
Although I will be trying to minimize how much extraneous text appears on cards for Magic: Remastered, flavor and world-building will generally win out when it justifies those extra words. I feel like planeswalkers (and their signature spells) are one of the best places to deploy those extra words.